There will be 2 classes per day for a total of 6 classes. Space is limited to 16 people per class, so make sure you sign up as soon as possible.  This year for CPR we will be receiving new cards.  All BS Patrollers will have to have completed an updated CPR refresher before the OEC refresher (Mountain).
Class Schedule:
July 31, 2016 ............9-12 & 1-3
August 6, 2016.........9-12 & 1-3
August 13, 2016.......9-12 & 1-3
To Sign Up:
1. Call our office at (269) 664-6474 to verify any schedule changes, or with any questions you may have.
2.  Click below to got to the Bittersweet Ski Patrol sign up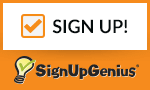 http://www.signupgenius.com/go/9040C44ABA62C7-20151
3. Pick an available slot, sign up with your name and e-mail.  Your sign-up will be verified and you will be contacted before the class begins.